Peña Villamil, Diana (Dra)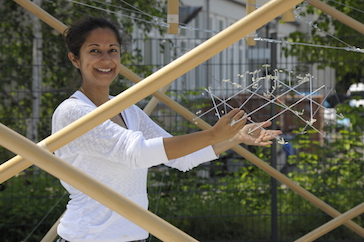 - PhD. Architectural Construction, Restoration, and Rehabilitation
Polytechnic University of Catalunya (UPC), Barcelona, Spain 2012
Architect. National University of Colombia, Bogotá, Colombia 1994
– Professional experience in a variety of roles, settings and Lightweight and Membrane Structures.
– Complex 3D structural modeling/analysis including AutoCAD, WinTess, basic EasyCAD.
– Research in SMiA Group – Structural Morphologic in Architecture, UPC Barcelona, Spain.
– Lightweight-Structures Fellowship: ILEK Institute, Stuttgart, Germany.
– PhD: UPC Barcelona, Lightweight Structures "Tensegrity Dome for a Sports Arena"
under the direction of Josep I. Llorens and Ramon Sastre.
- Collaborator Architect  in planning projects, public space, housing and rehabilitation with different architectural firm in Colombia, Spain and China
– Conference presentations: USA, China, Germany, Belgium, Italy, Spain, Chile, Venezuela, and Colombia.
-Published: IASS, IJSS, Cimne, Tensinet, and SEWC.
- Award at Techtextil Frankfurt – Germany (2011). Second place in the category of Macro-architecture: "Textile Structures For New Building 2011" with the project "Tensegrity Dome for a Sports Arena"
Research Interests
Lightweight Structures
Membrane Structures
Tensegrity
Key publications
– IASS International Association for Shell and Structures. Vol.52 No.2 ISSN 1028-365X, 2011.
Form finding and Structural Analysis of a Tensegrity Dome.
– IJSS International Journal of Space Structures Vol.25 Nº1. ISSN 0266-3511. Editor Rene Motro. Multi-Science Publishing Co. Ltda. UK., 2010.
– SEWC Structural Engineers World Congress. Editor L.E.G.O. spa – Como, Italia, 2011.
Tensegrity Ring for a Sports Arena: Form finding and Testing.
Links
 http://smia-experimental.com/
Portfolio: https://docs.google.com/file/d/0B_4Ta4Tfl4bFYXNRLVB5T3ZQUDQ/edit?usp=drive_web
PhD Thesis: https://docs.google.com/file/d/0B_4Ta4Tfl4bFajQxa0ZyOVAwLWc/edit
ILEK Tensegrity Prototype : https://docs.google.com/file/d/0B_4Ta4Tfl4bFX2pGMlhtRGpMMkE/edit